Osstell and the ITI have signed a long-term partnership and collaboration agreement
May 30, 2022
Osstell, the global leader in implant stability measurement and osseointegration progress monitoring, and the International Team for Implantology (ITI), a leading academic organization dedicated to the promotion of evidence-based education and research in the field of implant dentistry, today announced that they have signed a long-term partnership and collaboration agreement.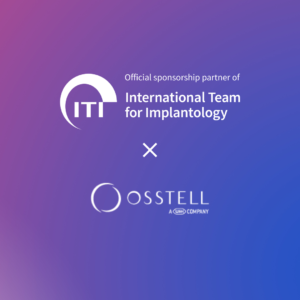 As one of the first sponsorship partners in a new initiative launched by the ITI to establish longer-term relationships with a small number of exclusively selected companies from the industry, Osstell will be working more closely with the ITI for an initial period of three years. The agreement encompasses primarily the contribution of educational material for the ITI community in its area of expertise, as well as participation in a number of ITI congresses and symposia. Osstell is now one of an appointed group of companies known as industry partners of the ITI.
"This global ITI initiative is based on a modular sponsorship concept that allow us to meet the individual needs of our partners," said Charlotte Stilwell, ITI President. "It represents a mutually beneficial, longer-term commitment made by carefully selected companies that share similar educational and scientific, evidence-based principles as the ITI. We are very happy to welcome Osstell on board."
Prof. Daniel Buser, ITI Past President, has been a clinical advisor for Osstell since its start. Prof. Buser highlighted the strong synergies that the partnership offers. "I have used the Osstell ISQ technique for roughly 20 years in daily practice. ISQ values are most important in my decision making, when to load an implant – and I am glad that Osstell and the ITI now can partner up so that more clinicians can learn about the value of Osstell's ISQ Diagnostics."
Dr Stephen Chen, ITI Past President, is a long time Osstell user and contributor to the successful ISQ symposium 2021. "A very similar philosophy drives the ITI and Osstell", said Dr Stephen Chen. "When Osstell can work together with the ITI like this, it is the ideal way of spreading sound knowledge and clinical best practice."
"Partnering together with the ITI is a natural extension of our commitment to clinical best practices and evidence. Clinicians use our diagnostic tools to ensure that they can deliver optimal implant treatments while ensuring predictability and patient satisfaction. We want to help them in any possible way and strongly believe that the ITI's educational and evidence-based work is crucial for them" said Jonas Ehinger, Osstell CEO.
Osstell will provide the ITI community with exclusive educational activities such as online lectures with world-renowned experts within implant dentistry and invite the clinical community to join the first event, which is a CE webinar with Dr. Jeff Ganeles on June 1st, 6 PM (CET), who will discuss how smart case presentations lead to acceptance of complex and sophisticated treatment.