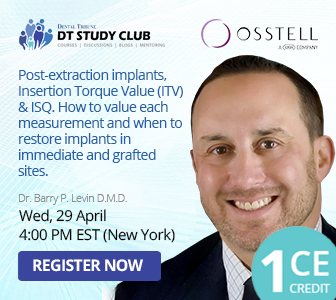 Webinar with Dr. Barry Levin
Apr 15, 2020
Post-extraction implants, ITV & ISQ—How to value each measurement and when to restore implants in immediate and grafted sites
Achieving successful outcomes for implant therapy is based on multiple parameters. One of the most critical goals is the achievement of implant stability. Primary stability of the implant at the time of placement is a mechanical entity. Secondary stability at the time of restoration refers to the osseointegration of the implant with vital bone. Hard and soft tissue stability are critical to long-term health and esthetics. In this webinar, an expert will explain the importance of the Insertion Torque Value (ITV) and the Implant Stability Quotient (ISQ) for dental implant therapy.
Primary stability is a measure of rotational and/or axial stability. Insertion Torque Value (ITV), measured in N cm, is the energy required to completely rotate the implant to its desired position. It is a one-time measurement that cannot be repeated. Implant Stability Quotient (ISQ) is a value assigned via resonance frequency analysis (RFA), which corresponds to the axial stability of the implant. Measurement of this value is non-invasive and can be performed multiple times and serves as a chronological monitoring of primary stability and its transformation to secondary stability.
This webinar will present the findings of a published study investigating the importance of the Insertion Torque Value (ITV) and the Implant Stability Quotient (ISQ) for immediate implants, and the preliminary findings of a multi-center study evaluating ITV and ISQ in grafted sites. It will also discuss some of the factors as they relate primary stability to hard and soft tissue preservation and maintenance, effecting health and esthetic outcomes. How this technology is implemented with novel grafting techniques and new implant designs will also be covered.
Join and earn CE credit!
About Dr Barry P Levin, DMD
Barry P. Levin, D.M.D. is a Diplomate of The American Board of Periodontology. A graduate of Temple University School of Dental Medicine, he earned his certificate in Periodontics from the University of Maryland. Dr. Levin has been on staff at the University of Pennsylvania-Periodontal and Dental Implant Surgery Department since 1996. Dr. Levin publishes and lectures both nationally and internationally on topics pertaining to dental implantology and periodontics and has been involved in research pertaining to new and advanced dental implant designs and bone regenerative materials.