Visit us at the ADF in Paris to learn more about making your implant loading decisions easier and more accurate. See you at W&H booth 2M35 /2M38!
Nous serons présents à l'ADF 2018 à Paris la semaine prochaine et vous invitons à venir y découvrir nos nouveautés, dont l'Osstell Beacon et Osstell Connect.
L'Osstell Beacon vous aide à déterminer objectivement la stabilité de l'implant et à évaluer la progression de l'ostéointégration, sans compromettre le processus de cicatrisation. Instrument de diagnostic compact, il fonctionne sans fil,
ce qui libère l'exercice de votre pratique. Les données sont stockées en toute sécurité et peuvent être comparées sur la plateforme Osstell Connect.
Retrouvez-nous aux stands W&H 2M35 et 2M38 !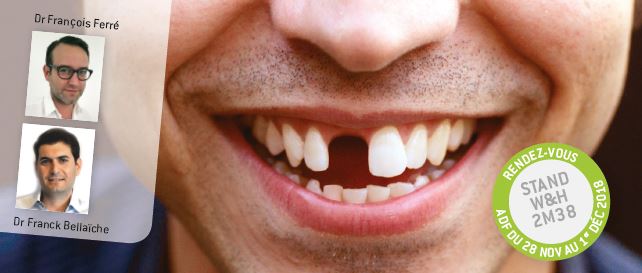 Nous souhaitons également vous inviter à participer au symposium W&H animé par Dr François Ferré et Dr Franck Bellaïche sur le thème de l'ostéointégration : mieux la comprendre pour mieux maîtriser le traitement implantaire.
Pour vous inscrire, au plus tard le 23 novembre, veuillez trouver ici le formulaire d'inscription. Le symposium se déroulera à l'ADF le jeudi 29 novembre à 18 h, Salle 353, niveau 3.