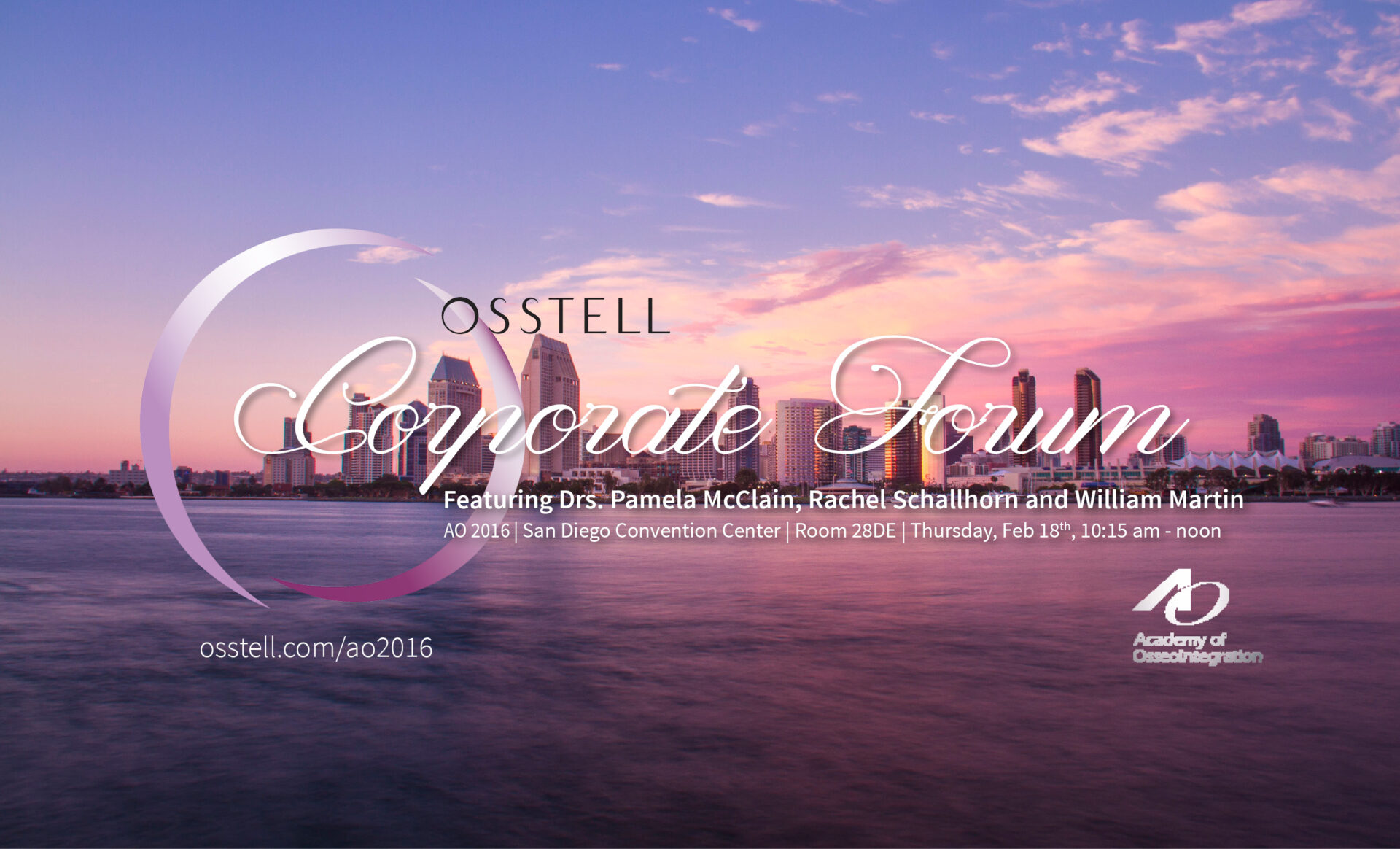 Interview with Dr. William Martin
Feb 1, 2016
Speaker at the Osstell Corporate Forum at AO 2016
Could you please introduce yourself to our readers. What is your background?
I'm the Director for the Center for Implant Dentistry at the University of Florida, College of Dentistry. I received my DMD training at the Univeristy of Florida and furthered my education attending Baylor College of Dentistry for Prosthodontics. I am a Diplomate of the American Board of Prosthodontics and a Fellow of the International Team for Implantology (ITI).
I'm a "wet handed dentist", meaning I see patients between 8-5, 3 days a week, as well as conducting clinical research, teaching and lecturing to colleagues around the world. The Implant Center participates in the undergraduate implant curriculum, but our main focus is on Doctoral education with Oral Surgery and Prosthodontic residents. The Implant Center functions as a revenue generating practice as little funding is offered by the state. Our practice is driven by a passion to change lives by giving patients the opportunity to feel confident while living with dental implants.
Over the past 6-7 years, our patient consultations have shifted from initiation of treatment to management of implant complications. Most patients we see today have implants in place and are having problems with them, such as peri-implantitis or prosthetic problems. I think that's the evolution that we're faced with in implant dentistry. As a broader range of people start incorporating implants in their practice, and as more people get implants, you are going to have a higher number of complications.
Our philosophy at the Center is based on restoration-driven implant planning and execution. We like to start at the end point and work backwards. Having a team of clinicians that support the entire rehabilitation process allows us to support each-others clinical initiatives. We always have some version of a surgical template at surgery to assist the surgeon in visualizing the overall treatment plan. This process greatly reduces post-placement complications that are unfortunately becoming more commonplace in today's practice. So the restoration drives that whole process. We always want to do what's best for the patient, while not letting the patient drive the treatment.
How do you use Osstell in your clinic? In daily practice, what are the main benefits you see?
We were one of the early adopters of Osstell. It used to be case specific, but now it is used on a daily basis to gather additional information for the overall treatment of the patient.
For example, we have patients that come in with complications, where we have no previous background on them; we have no history on the implant, whether it was placed in a compromised situation, lacked stability, grafted, etc. So we use tools to try to diagnose what the problem is with that particular implant. Utilizing the Osstell with its ISQ readings gives us additional information in determining the health of the implant. I feel when access to the implant connection is possible, the Osstell gives us a minimally invasive approach to evaluating the health of the implant.
The other area where Osstell plays a big role is in the education of young clinicians. We use the ISQ values after placement to give them a parameter to relate to feel of the osteotomy preparation and how this may correlate to implant stability.
We also see a benefit with the Osstell device based upon our patient population. Most of our patients fall under a category of advanced or complex, most often referred to us for treatment due to difficulty. It is not uncommon to see patients that either have a history of implant failure or are in the need of large amounts of augmentation. So we often find ourselves using all the tools available to diagnose and treat in an effort to ensure a successful outcome.
Are you doing immediate or early loading?
The philosophy at the implant center is centered around The International Team for Implantology's (ITI) Clinical Recommendations for patient treatment. The ITI hosts Consensus Conferences every 4-years to update treatment protocols based upon scientific evidence and/or clinical expertise when needed. One area of note is with loading protocols, which have been redefined over the past several years. For example, in 2009, early loading was defined as 48 hours after implant placement to 3 months. Conventional loading was 3-6 months and immediate loading was 48 hours or less. As of 2014, the ITI has redefined loading protocols, so immediate loading today is less than one week. Early loading is greater than one week less than two months and conventional is anything over two months. We do all three, but the majority of the implants we place fall in the early loading category.
How do you determine the degree of osseointegration before the final restoration?
We are trying to integrate Osstell in the new surgeons' environment so that they use that, in combination with their experience, to determine osseointegration. Osstell can play a role in confirming the osseointegration, before sending the patient back to whom they were referred from. Osstell is extremely beneficial when you get measurements over time, at time of placement and before loading. I always want to see the progression; that the numbers are getting bigger.
     "I like working with companies that want to improve clinical outcomes for patients and that give clinicians tools to do their jobs better. Osstell is a company like that."
How you decide what protocol to apply?
It is really based upon what clinical characteristics our patient's present with. I am a firm believer in Dr. Dennis Tarnow's "one miracle at a time". We often find our patients exploring broad options to finance their treatment, so it's not in our best interest to do anything that could put the implant(s) and rehabilitation in jeopardy.
How much does a failure cost?
We use a dental implant system that will replace the implant at no cost after failure. So when patients are compliant with our recall and maintenance program, they will not incur a cost for the implant, but will be responsible for any grafting, radiographs and adjuncts needed to replace the implant. Where it really hurts you is on the restorative side of things. Many of those costs are passed on to the patient, depending on what you offer as far as a warranty. We educate patients that nothing is permanent, that there are associated risks, and that maintenance and follow-up is required.
I can tell you an example I heard in a lecture regarding the cost of failure: In the lecturer's practice, he had a 96% implant success rate and he was placing 1,200 implants a year. That means he had about 4% failures, which is about 48 failures a year. Each one of these failures would be negotiated with the patient and the price would be determined. If another company then comes along and says they can increase your success rate from 96 to 98%, that's a significant difference. You have then reduced the number of failures to 24 a year. Even small changes in percentages make a huge difference in your chair time and your overhead.
What do you think will change in implant dentistry over the next 5 years? What trends are you seeing in the industry?
From a surgical standpoint, I think that stem cells and hard and soft tissue grafting will continue to evolve. More predictability in grafting would be helpful.
From an implant design standpoint, I think the trend of smaller and shorter implants will continue to evolve.
On the restorative side, I'd like to see more 3D printing of frameworks and restorations.
Who, or what, has inspired you the most in your career?
That's a tough one. I have so many mentors that have touched my life over the years, and I don't want to leave anyone out. It starts with my dentist Scott Kenward, who inspired me to become a dentist back when I was 10 years old. Then when I got into my residency, my program director Ronald Woody, and Frank Higginbottom both played an important role in helping me fulfill my passion in dentistry.
After my residency, I came back to Florida started the Implant Center together with Dean Morton and Jim Ruskin. They were my mentors and really helped getting me where I am today.
Lastly, ITI as an organization has really allowed me to flourish in this area. They have played a big role in allowing me to run with my dreams.
Don't miss Dr. Martin's lecture at the Osstell Corporate Forum at the Annual Meeting of the Academy of Osseointegration in San Diego, CA
February 18, 2016 | 10:15 am – Noon