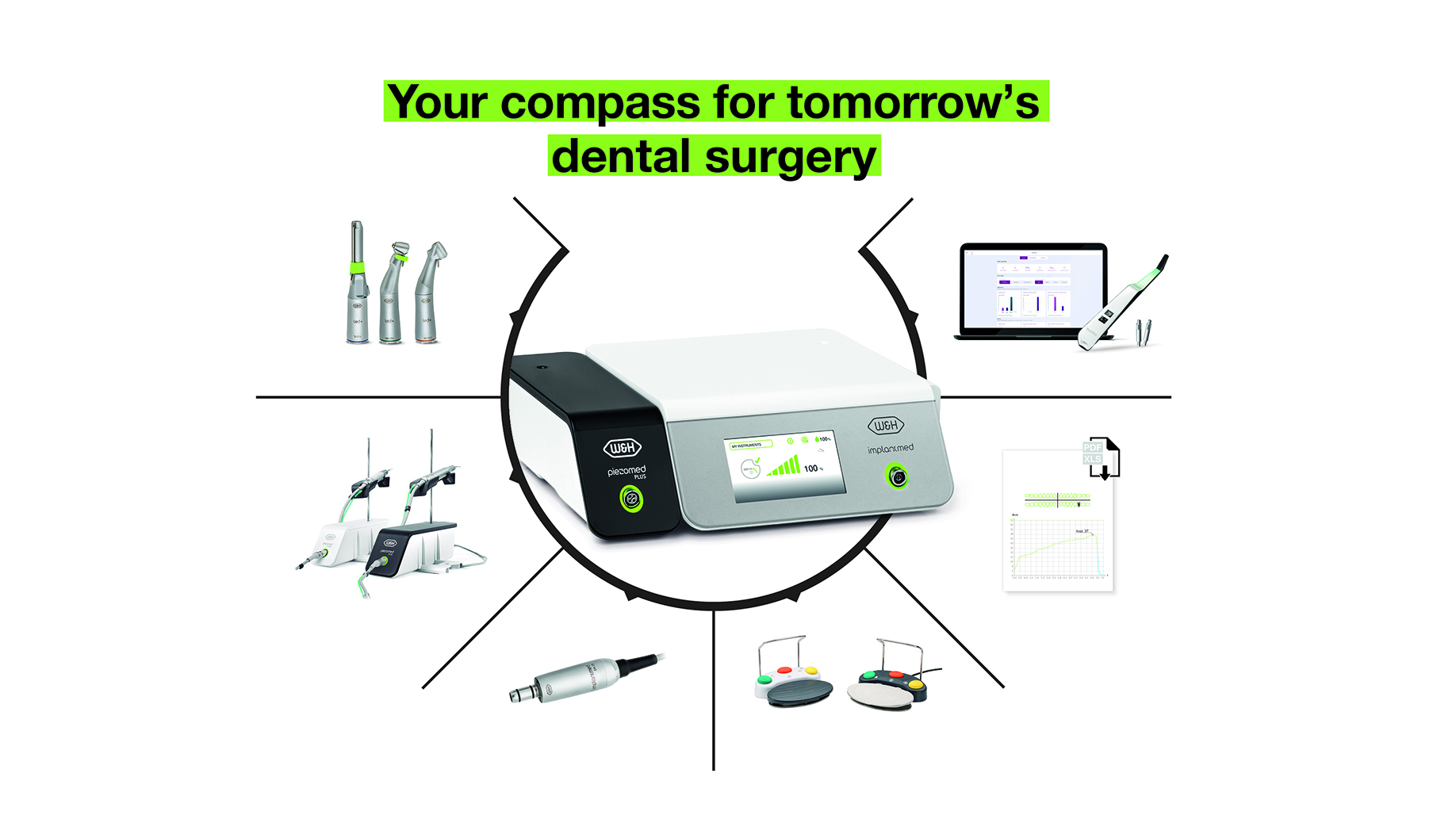 W&H at the EAO Congress 2023
Berlin is known for being one of the most creative and vibrant cities in Europe. Therefore, it's no surprise that this year's European Association for Osseointegration Congress, EAO Congress for short, is taking place in Berlin. From September 28th to 30th, experts from all over the world will meet to discuss new surgical techniques and technological trends in oral surgery and implantology. In line with this, the W&H Group will be presenting future-oriented products in the field of surgery and digital solutions for implant stability measurement according to the theme "Your compass for tomorrow's dental surgery".
One-stop
At the EAO Congress, W&H is presenting a new product compass for the first time, which highlights the synergies between the medical device manufacturer's products. At the heart of the workflow-driven solution is the Implantmed Plus, the reliable W&H motor for implantology and oral surgery. With the Piezomed module as an add-on solution, W&H is changing the way oral surgeons work: thanks to the unique device combination, users have all the advantages of precise ultrasonic technology at their disposal. A wide variety of surgical applications can thus be covered. With the slogan "Oral surgery and implantology in perfect harmony for your treatment success", the W&H Group sums up the interaction between the surgical devices and Osstell's innovative method for measuring implant stability.
Osstell – The lighthouse as a guide and orientation help
Osstell has been part of the international W&H Group since 2018. The company supports dentists and oral surgeons worldwide in making implant treatments safe and effective. Using resonance frequency analysis, a non-contact method of measuring the stability of an implant in the bone, Osstell enables predictable implantation procedures. Clinicians can quickly and easily determine which implants can be prosthetically loaded and which implants require even more healing time. This results in better treatment prognosis and quality – for patients and doctors. Attendees of the EAO Congress 2023 will have the chance to witness the harmonious interaction of W&H solutions.
At a glance
W&H at the EAO Congress 2023
28 to 30 September 2023, Berlin
W&H booth F24